COVID-19 Testing
RX Rapid Testing Powered by Grand Ave Pharmacy
Due to insufficient government funding, we are unable to offer free testing to uninsured
COVID TESTING (Rapid & PCR)
No Appointments Necessary, Drive-in's Welcome
Bring Picture ID and Insurance Card
Questions? CALL: 817-523-8022
Austin, TX (And Surrounding Area)
Grand Ave Pharmacy - Pflugerville
1615 Grand Avenue Pkwy, Suite104
Pflugerville, TX 78660
Mon-Fri: 9:00am-6:00pm
Sat: 10:00am-3:00pm
Sun: Closed
*No Appointment Needed. First Come, First Serve*
Kerry Plaza
3000 West Stan Schlueter Loop
*No Appointment Needed. First Come, First Serve*
Southend Pharmacy
415 Westheimer Rd. Suite 103, Houston, TX 77006
Mon-Fri: 9:00am-5:30pm
Sat-Sun: Closed
*No Appointment Needed. First Come, First Serve*
Use Office Code: SOUTH for Pre-Registration
Fort Worth - Stockyards
2707 Decatur Ave. Fort Worth, TX 76106
OPEN 24 HOURS

7 DAYS A WEEK

OPEN ON HOLIDAYS
*No Appointment Needed. First Come, First Serve*
Denton
2217 N. Carol Blvd. Denton,TX. 76201
*No Appointment Needed. First Come, First Serve*
Albuquerque
612 Main St. NE, Los Lunas, NM 87031
Mon-Sat: 8:00am-5:00pm

Sun: 12:00pm-5:00pm
*No Appointment Needed. First Come, First Serve*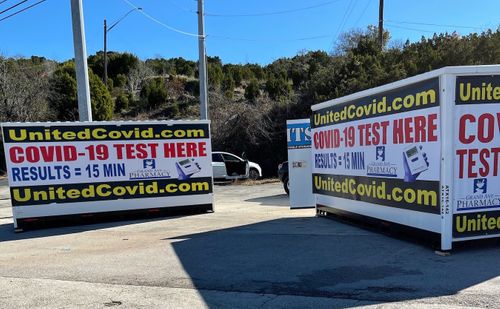 Our test administrators will administer a nasal swab curbside. Drive up to any of our locations and one of our test administrators will have you tested quickly and swiftly without any stress or hassle.
Grand Avenue Pharmacy is now offering COVID-19 Antibody testing, for $85.00, through a quick finger prick analysis. You'll receive results in about 10 minutes. This test determines if the antibodies generated by COVID-19 are present in your blood.
To learn more about COVID-19 and additional health tips and resources, please visit our Coronavirus updates page.