COVID-19 Testing
Visit One Of Our COVID-19 Drive Up Sites
Free Rapid Antigen Testing - Results in 10 Minutes
No Appointments Necessary, Drive-in's Welcome
Bring Picture ID and Insurance Card If Insured
Pflugerville
1615 Grand Avenue Pkwy, Suite104
Pflugerville, TX 78660
Mon-Fri: 9:00am-6:00pm
Sat: 10:30am-3:00pm
Oak Hill
7100 US Hwy 290 Austin, TX 78735
Mon-Fri: 8:00am-6:00pm
Sat: 10:30am-3:30pm
No Appointment Needed - Drive Up
Dallas/Fort Worth Locations
Fort Worth - W. Berry St.
*Temporarily Closed - Opening Soon*
600 W. Berry St. Fort Worth, TX 76110
Mon-Sat: 9:30am-5:00pm

Sun: 12:00pm-5:00pm
Fort Worth - Stockyards
*Drive Up - First Come, First Serve*
2707 Decatur Ave. Fort Worth, TX 76106
Mon-Sat: 9:30am-5:00pm

Sun: 12:00pm-5:00pm
Group or Event Testing?
Call: (512) 377-1999
Email: Cody@RxRapidTesting.com
Submitting Claims to Insurance
We Do Not Guarantee Coverage. Check With Your Insurance First.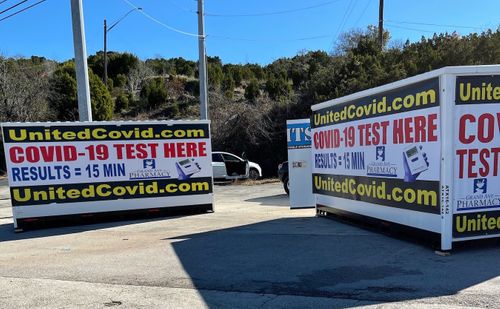 Sars-Cov-2 Rapid test provides results as accurate at a PCR molecular test but delivers results in JUST 10 minutes. Our test administrators will administer a nasal swab curbside. Make a curbside appointment today at any of our locations and one of our test administrators will have you tested quickly and swiftly without any stress or hassle.
Grand Avenue Pharmacy is now offering COVID-19 Antibody testing through a quick finger prick analysis. You'll receive results in about 10 minutes. This test determines if the antibodies generated by COVID-19 are present in your blood.
To learn more about COVID-19 and additional health tips and resources, please visit our Coronavirus updates page.